Notice:
The statistics currently shown are wrong but the harvesting operations should restart over the summer.
We are doing everything we can to bring the service back to normal and we apologise for the interruption to the service.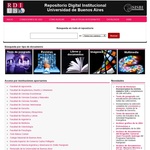 Description
The Institutional Digital Repository at the University of Buenos Aires includes the intellectual and scientific production in all disciplines, being a valuable resource for all who wish to broaden their knowledge. The repository will record, store, preserve and disseminate knowledge production, consistent with national and international standards, to ensure their integration with those similar portals. The objective of this project is to incorporate a specialized search service and items available scientific information on any topic facilitating the work of teaching, research and study.
Record
| | |
| --- | --- |
| ROAR ID: | 12914 |
| Home Page: | http://repositoriouba.sisbi.uba.ar |
| Repository Type: | Research Multi-institution Repository |
| Organisation: | Facultad de Agronomia, Facultad de Ciencias Economicas, Facultad de Ciencias Exactas y Naturales, Facultad de Arquitectura, Diseño y Urbanismo, Facultad de Ciencias Sociales, Facultad de Ciencias Veterinarias, Facultad de Derecho, Facultad de Farmacia y Bioquimica, Facultad de Filosofia y Letras, Facultad de Ingenieria, Facultad de Medicina, Facultad de Odontologia, Facultad de Psicologia, Ciclo Basico Comun, Instituto de Historia Argentina y Americana Dr. Emilio Ravignani, Rectorado de la Universidad de Buenos Aires |
| Software: | Greenstone (version other) |
| Location: | [error in script] |
| Birth Date1: | 28 July 2017 14:57:44 UTC |
| OAI-PMH Interface: | http://repositoriouba.sisbi.uba.ar/gsdl/cgi-bin/oaiserver.cgi ?Identify ?ListMetadataFormats http://repositoriouba.sisbi.uba.ar/gsdl/cgi-bin/oaiserver.cgi?verb=Identify ?Identify ?ListMetadataFormats |
| RSS Feed: | http://repositoriouba.sisbi.uba.ar/gsdl/web/xml/alerta_rss.xml |
| Other Registries: | Celestial |
| Record Creator: | RDI-UBA Repositorio Digital Institucional de la UBA Repositorio de la Universidad de Buenos Aires |
| | |
| --- | --- |
| 1 | Birth Date is either when the repository was first registered in ROAR or the earliest record found via the OAI-PMH interface. |