Notice:
The statistics currently shown are wrong but the harvesting operations should restart over the summer.
We are doing everything we can to bring the service back to normal and we apologise for the interruption to the service.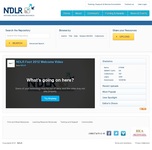 Description
NDLR Repository Service: This is the searching and storage service for Irish NDLR digital learning resources. The NDLR repository service is centrally maintained within HEAnet with access via the NDLR Web Portal, Subject discipline or Community of Practice Portals as well as being directly accessible institutional and university learning management systems. User authentication is only needed to uploading resources to the NDLR repository. The downloading and reusing resources is freely accessible and governed via the digital commons licences (see NDLR Copyright Management).
Record
ROAR ID:
2591
Home Page:
https://dspace.ndlr.ie/jspui/
Repository Type:
Learning and Teaching Objects
Organisation:
University of Dublin, Trinity College (TCD), National University of Ireland, Galway (NUI Galway), University College Dublin (UCD), National University of Ireland, Maynooth (NUI Maynooth) , Dublin City University (DCU), University College Cork (UCC), University of Limerick (UL), Athlone Institute of Technology , Dublin Institute of Technology , Blanchardstown Institute of Technology, Carlow Institute of Technology, Cork Institute of Technology, Dundalk Institute of Technology, Dun Laoghaire Ins, Limerick Institute of Technology, Institute of Technology, Tallaght, Letterkenny Institute of Technology , Galway - Mayo Institute of Technology, Dun Laoghaire Institute of Art, Design & Technology, Dublin, Sligo Institute of Technology, Tralee Institute of Technology
Software:
DSpace (version other)
Country:
Europe > Ireland
Location:

| Country | City | Latitude | Longitude |
| --- | --- | --- | --- |
| Ireland | Dublin | 53.3441 | 6.2675 |

Birth Date1:
21 January 2010 16:46:23 UTC
Daily Deposit Activity2:

| Low Rate | Medium Rate | High Rate |
| --- | --- | --- |
| 0 | 0 | 0 |

OAI-PMH Interface:
https://dspace.ndlr.ie/oai/request ?Identify ?ListMetadataFormats
Other Registries:
Celestial

Record Creator:

User 169
| | |
| --- | --- |
| 1 | Birth Date is either when the repository was first registered in ROAR or the earliest record found via the OAI-PMH interface. |
| 2 | Deposit activity measures the number of days in the last year that had "low" (1-9), "medium" (10-99) or "high" (100+) numbers of records deposited. |