Notice:
The statistics currently shown are wrong but the harvesting operations should restart over the summer.
We are doing everything we can to bring the service back to normal and we apologise for the interruption to the service.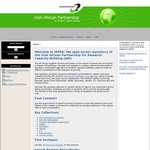 Description
The Irish African Partnership is a three year pilot project (2008-2010) to bring together all nine universities on the island of Ireland and universities in Malawi, Mozambique, Tanzania and Uganda in a unique, high-level partnership to develop a coordinated approach to research capacity building in order to make an effective contribution to the reduction of poverty. The IAP was developed under the auspices of Universities Ireland and is largely funded by the Irish Government's development cooperation programme, Irish Aid. IAPRA (the Irish African Partnership Research Archive) is being populated with refereed publications, e-theses, reports and policy documents and relevant research data is being identified. IAP members can upload content directly into the repository via the integrated Research Registry (a light-weight CRIS). Relevant reports, policy documents and research data which are extraneous to individual research profiles can be uploaded directly to the repository. IAPRA material can be retrieved using the usual search mechanisms and browsed via the four IAP thematic areas of Health, Gender, ICT and Education.
Record
ROAR ID:
2613
Home Page:
http://iap-dev.tchpc.tcd.ie:8085/dspace17/
Repository Type:
Research Cross-Institutional
Organisation:
Dublin City University (Ireland), Makerere University (Uganda), National University of Ireland, Galway (Ireland), National University of Ireland, Maynooth (Ireland), Queen's University Belfast (Northern Ireland), Trinity College Dublin (Ireland), Universidade Eduardo Mondlane (Mozambique), University College Cork (Ireland), University College Dublin (Ireland), University of Dar Es Salaam (Tanzania), University of Malawi (Malawi), University of Limerick (Ireland), University of Ulster (Northern Ireland)
Software:
DSpace (version other)
Country:
Africa > Mozambique
Location:

| Country | City | Latitude | Longitude |
| --- | --- | --- | --- |
| Mozambique | Maputo | -25.9667 | 32.5833 |
| Malawi | Zomba | -15.3833 | 35.3333 |
| Tanzania | Dar Es Salaam | -6.8229 | 39.2697 |
| Uganda | Kampala | 0.3136 | 32.5811 |
| Ireland | Dublin | 53.3441 | -6.2675 |
| United Kingdom | Belfast | 54.5973 | -5.9301 |
| UNSPECIFIED | Jordanstown | 54.6799 | -5.8887 |
| UNSPECIFIED | Limerick | 52.6639 | -8.6268 |
| UNSPECIFIED | Cork | 51.8979 | -8.4711 |
| UNSPECIFIED | Galway | 53.2738 | -9.0518 |
| UNSPECIFIED | Maynooth | 53.385 | -6.5936 |

Birth Date1:
19 March 2010 16:43:00 UTC
Public Fulltext Formats3:
Digital Objects3:

| Objects | Documents | Records with Object | Records with Documents |
| --- | --- | --- | --- |
| 72 | 31 | 40 | 29 |

Daily Deposit Activity2:

| Low Rate | Medium Rate | High Rate |
| --- | --- | --- |
| 0 | 0 | 0 |

OAI-PMH Interface:
http://iap-dev.tchpc.tcd.ie:8085/dspace-oai/request ?Identify ?ListMetadataFormats
Other Registries:
Celestial

Record Creator:

User 194
| | |
| --- | --- |
| 1 | Birth Date is either when the repository was first registered in ROAR or the earliest record found via the OAI-PMH interface. |
| 2 | Deposit activity measures the number of days in the last year that had "low" (1-9), "medium" (10-99) or "high" (100+) numbers of records deposited. |
| 3 | Full-text formats is based on automatic file-format identification and is prone to errors. |