Notice:
The statistics currently shown are wrong but the harvesting operations should restart over the summer.
We are doing everything we can to bring the service back to normal and we apologise for the interruption to the service.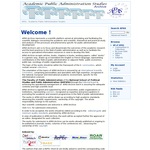 Description
APAS Archive represents a scientific platform aimed at stimulating and facilitating the scientific dialogue concerning the academic and scientific, theoretical and practical study and analysis of the processes and phenomena specific for public administration development. APAS Archive's aim is to focus and disseminate the outcomes of the academic research and the best practices in the field of public administration as well as to facilitate the access to specialized information resources in view to develop this field. APAS Archive accepts articles, books, chapters in books, working papers, called "works" in a generic way, drawn up or translated into English or French language, representing contributions in the field of public administration or adjacent fields: public economics, public law, sociology of public organizations etc. The topic of the works should be within the framework of the 4 communities, which contain several collections. The orientation of the topics of APAS Archive is ensured by an International Scientific Committee, comprising personalities and specialists with high expertise, recognized in the national, European and international academic environment, specific for the administrative sciences. The Faculty of Public Administration of the National School of Political Studies and Public Administration (NSPSPA) through the Editorial Board is achieving the operational management of APAS Archive and it is assuring the adequate contents and high scientific level. APAS Archive is agreed and supported by other universities, public organizations or institutions, representing partners, recognized as expertise and preoccupations in promoting the academic and research programmes in the field of public administration. The works in APAS Archive will be drawn up according to high academic standards, observing the scientific requirements, ownership of the copyright. The whole responsibility belongs to the authors. Your scientific contributions are welcome in APAS Archive. Click here for submission instructions. In order to be accepted, the works should be edited according to the editorial guide and minimum quality standards, promoted by APAS Archive. In view of publication in APAS Archive, the work will be accepted further the approval of an editor, designated for each collection. The works for submission in APAS Archive can be works already published or ongoing to be published in journals, books, volumes of the conferences etc., observing the ownership of the copyright.
Record
| | |
| --- | --- |
| 1 | Birth Date is either when the repository was first registered in ROAR or the earliest record found via the OAI-PMH interface. |