Notice:
The statistics currently shown are wrong but the harvesting operations should restart over the summer.
We are doing everything we can to bring the service back to normal and we apologise for the interruption to the service.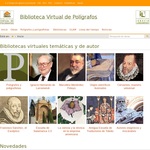 Description
The Bibliotecas Virtuales FHL (also named as Polymath Virtual Library) aims to bring together information, data, digital texts and websites about Spanish, Hispano-American, Brazilian and Portuguese polymaths from all times. As such it aggregates information about the thinking, philosophy, politics, science, etc. from Spain, Hispano-American, Portugal and Brazil written in any language (Latin, Arabic, Hebrew, Spanish, Portuguese ...) and at any time (since Seneca in the first century BC to the present). The backbone of the system are the authors. For each author a MARC21/RDA authority record is made and is enriched with biographical data. Specific attributes are categorized to enhance relationships and navigability of the site (profession, occupation, gender, membership, etc..) Other data encoded are birth and death dates, places of birth and death and languages or script use. In that way each authority record aggregates information from multiple sources. The creation of these authority records are made through the consultation of different trusted sources, they can be authority files, encyclopedias, biographical dictionaries, etc.. The sources used for each author vary considerably and may range from the thematic area of medieval philosophy expressed in Latin to modern Spanish science. There are several common sources used for all authors such as LCSH and VIAF (by its Linked Open Data URIs). Similarly, each author is related to other authors (translators, publishers, commentators, etc.), as a way of following the textual transmission of their work. The criteria for selecting the sources and digital editions is key for the system. In that sense we are developing different tools that allows users to provide information about these sources and comments on the contents of the website, both the authors and their works. Also for each author it is described, following MARC/RDA, the digital versions of their works available on the web or scanned and edited by the Fundación Larramendi (HTML, PDF, ePUB, MOBI, etc.) Virtual Libraries FHL provides, through its OAI repository, these bibliographic records converted dinamically from MARC / RDA authorities to Dublin Core (ISO 15836:2009).
Record
| | |
| --- | --- |
| 1 | Birth Date is either when the repository was first registered in ROAR or the earliest record found via the OAI-PMH interface. |
| 2 | Deposit activity measures the number of days in the last year that had "low" (1-9), "medium" (10-99) or "high" (100+) numbers of records deposited. |