Notice:
The statistics currently shown are wrong but the harvesting operations should restart over the summer.
We are doing everything we can to bring the service back to normal and we apologise for the interruption to the service.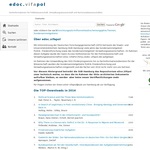 Description
This site is a subject repository for political and administrative science and peace studies. The collection consists of grey literature as well as articles and working papers from research institutions in german-speaking countries. It is part of the subject portal www.vifapol.de. The interface is available in German.
Record
ROAR ID:
4416
Home Page:
http://edoc.vifapol.de/opus/
Repository Type:
Research Cross-Institutional
Organisation:
Berghof Forschungszentrum für Konstruktive Konfliktbearbeitung, DIE - Deutsches Institut für Entwicklungspolitik, ECMI - European Centre for Minority Issues, Friedrich-Naumann-Stiftung für die Freiheit, GIGA - German Institute of Global and Area Studies, HSFK-Hessische Stiftung Friedens- und Konfliktforschung, IFSH - Institut für Friedensforschung und Sicherheitspolitik , IMI - Informationsstelle Militarisierung e.V., MPIfG - Max-Planck-Institut für Gesellschaftsforschung, Rosa-Luxemburg-Stiftung, WZB Wissenschaftszentrum Berlin für Sozialforschung, ZeS - Zentrum für Sozialpolitik
Additional Information:
eDoc.ViFaPol is provided by Hamburg State and University Library http://www.sub.uni-hamburg.de
Software:
OPUS (Open Publications System) (version other)
Country:
Europe > Germany
Location:

| Country | City | Latitude | Longitude |
| --- | --- | --- | --- |
| Germany | Hamburg | 53.5648 | 9.9848 |

Birth Date1:
19 March 2008 10:09:50 UTC
Daily Deposit Activity2:

| Low Rate | Medium Rate | High Rate |
| --- | --- | --- |
| 0 | 0 | 0 |

OAI-PMH Interface:
http://edoc.vifapol.de/opus/oai2/oai2.php ?Identify ?ListMetadataFormats
RSS Feed:
http://edoc.vifapol.de/opus/rss.php
Other Registries:
OpenDOAR
Celestial

Record Creator:

Jens Wonke-Stehle
| | |
| --- | --- |
| 1 | Birth Date is either when the repository was first registered in ROAR or the earliest record found via the OAI-PMH interface. |
| 2 | Deposit activity measures the number of days in the last year that had "low" (1-9), "medium" (10-99) or "high" (100+) numbers of records deposited. |