Notice:
The statistics currently shown are wrong but the harvesting operations should restart over the summer.
We are doing everything we can to bring the service back to normal and we apologise for the interruption to the service.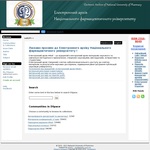 Description
The Electronic Archive of the National University of Pharmacy includes full-text scientific works of the lecturers and research workers of the University. There are scientific articles, scientific monographs, reviews, learning aids, presentations and bibliographies among them. Students' scientific works are registered if there is a review of the scientific supervisor of studies.
Record
ROAR ID:
4459
Home Page:
http://dspace.ukrfa.kharkov.ua/
Repository Type:
Research Institutional or Departmental
Organisation:
Електронний архів Національного фармацевтичного університету, Electronic Archive of National University of Pharmacy, eNPhaUIR, Electronic Archive NUPh, Электронный архив Национального фармацевтического университета, Національний фармацевтичний університет, National University of Pharmacy, Национальный фармацевтический университет
Additional Information:
The Electronic Archive of the National University of Pharmacy includes full-text scientific works of the lecturers and research workers of the University. There are scientific articles, scientific monographs, reviews, learning aids, presentations and bibliographies among them. Students' scientific works are registered if there is a review of the scientific supervisor of studies.
Software:
DSpace (version other)
Country:
Europe > Ukraine
Location:

| Country | City | Latitude | Longitude |
| --- | --- | --- | --- |
| Ukraine | Kharkov | UNSPECIFIED | UNSPECIFIED |

Birth Date1:
18 November 2011 07:41:18 UTC
OAI-PMH Interface:
http://dspace.ukrfa.kharkov.ua/ ?Identify ?ListMetadataFormats http://dspace.ukrfa.kharkov.ua/ ?Identify ?ListMetadataFormats http://dspace.ukrfa.kharkov.ua/ ?Identify ?ListMetadataFormats
Other Registries:
Celestial

Record Creator:

Elena Elena Elena
| | |
| --- | --- |
| 1 | Birth Date is either when the repository was first registered in ROAR or the earliest record found via the OAI-PMH interface. |