Notice:
The statistics currently shown are wrong but the harvesting operations should restart over the summer.
We are doing everything we can to bring the service back to normal and we apologise for the interruption to the service.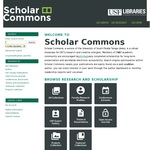 Description
Scholar Commons, a service of the University of South Florida Tampa Library, is a virtual showcase for USF's research and creative energies. Members of the USF academic community are encouraged to contribute any completed scholarship for long-term preservation and worldwide electronic accessibility.
Record
ROAR ID:
4566
Home Page:
http://scholarcommons.usf.edu/
Repository Type:
Research Institutional or Departmental
Additional Information:
What is the project's mission? The USF Tampa Library strives to develop and encourage research collaboration and initiatives throughout all areas of campus. Members of the USF community are encouraged to deposit their research with Scholar Commons. We commit to assisting faculty and students in all stages of the deposit process, to managing their work to optimize access/readership, and to ensure long-term preservation. Long-term preservation and increasing accessibility will increase citation rates and highlight the research accomplishes of this campus. Scholar Commons will have a direct impact on the University's five strategic priorities: student success, research and innovation, community engagement, global literacy and impact, and integrated, interdisciplinary inquiry. What is the project's vision? Scholar Commons will provide digital preservation and access, open or restricted, to all scholarly works produced by the University of South Florida Community. We want to grow Scholar Commons to be a vehicle to drive research communication across disciplines and the globe.
Software:
Bepress (version other)
Country:
North America > United States
Location:

| Country | City | Latitude | Longitude |
| --- | --- | --- | --- |
| United States | Tampa | UNSPECIFIED | UNSPECIFIED |

Birth Date1:
24 September 2010 00:00:00 UTC
Daily Deposit Activity2:

| Low Rate | Medium Rate | High Rate |
| --- | --- | --- |
| 0 | 0 | 0 |

OAI-PMH Interface:
http://scholarcommons.usf.edu/do/oai/?verb=ListRecords&metadataPrefix=document-export ?Identify ?ListMetadataFormats http://scholarcommons.usf.edu/do/oai/?verb=ListRecords&metadataPrefix=oai_dc ?Identify ?ListMetadataFormats
RSS Feed:
http://scholarcommons.usf.edu/recent.rss
Other Registries:
OpenDOAR
Celestial

Record Creator:

User 1340
| | |
| --- | --- |
| 1 | Birth Date is either when the repository was first registered in ROAR or the earliest record found via the OAI-PMH interface. |
| 2 | Deposit activity measures the number of days in the last year that had "low" (1-9), "medium" (10-99) or "high" (100+) numbers of records deposited. |