Notice:
The statistics currently shown are wrong but the harvesting operations should restart over the summer.
We are doing everything we can to bring the service back to normal and we apologise for the interruption to the service.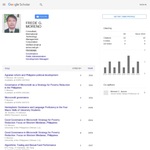 Description
The surrender of 254 Abu Sayyaf extremists and sympathizers in Basilan, Philippines is considered as a milestone for the Program Against Violent Extremism (PAVE) and military's Countering Violent Extremism (CVE) initiatives being reinforced by Martial Law and the military's aggressive "dead or alive" operations against Abu Sayyaf terrorists. This is considered successful in the short-run but sustainability remains uncertain and dependent on the long-term package of development assistance that will prevent reversals from the current decisions of ASG returnees. Using qualitative case studies and in-depth interviews involving 10 ASG returnees, their families and selected stakeholders, the results of this case study research reveal that aside from the fear of getting killed because they are identified by the military as Abu Sayyaf members, the family remains central to the journey of joining Abu Sayyaf and also in the journey of leaving terrorism behind and their surrender to the government. Another finding is the dwindling number of violent extremists in Basilan province, and that, current programs for the returnees are initially successful, but its long-term impact and prospects remain uncertain. Hence, so much more needs to be done to sustain the initial efforts of the government. Moreover, this study provides an insight into government's programs on countering violent extremism, and that, the government should enhance its strategies on how to counter the problem of violent extremism and terrorism in Basilan. Since most of the members of the community are relatives and friends of the returnees, it was easy for them to be reintegrated with their family and community. Thus, one way to enhance the countering violent extremism and terrorism programs in the province is by providing families in the community with basic needs and necessities. While vulnerability on the one hand (resulting from poverty and underdevelopment) leads to violent extremism, resilience on the other hand, provides a sustainable means for peaceful engagement of former violent extremists and ex-terrorists in the Philippine's Basilan province.
Record
| | |
| --- | --- |
| 1 | Birth Date is either when the repository was first registered in ROAR or the earliest record found via the OAI-PMH interface. |