Notice:
The statistics currently shown are wrong but the harvesting operations should restart over the summer.
We are doing everything we can to bring the service back to normal and we apologise for the interruption to the service.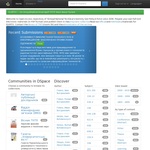 Description
Electronic archive of open access of Ternopil Ivan Puluj National Technical University research library. Is filled up with the following materials in technical field: articles of TNTU scholarly journal, proceeding of TNTU conferences, scientific works of the teaching staff and students of TNTU, educational materials (methodical development, lecture notes, labs, etc), abstracts and/or theses defended at the TNTU academic councils, TNTU patents, newspaper "University News"; reports on scientific subjects which were developed in TNTU, contributions which were make by the scientists and educators from outside TNTU. Архів електронних матеріалів відкритого доступу технічного спрямування науково-технічної бібліотеки Тернопільського національного технічного університету ім. І. Пулюя. Наповнюється наступними матеріалами: статті вісника ТНТУ, тези виступів на конференціях ТНТУ, наукові публікації працівників та студентів ТНТУ, учбові матеріали (методичні розробки, конспекти лекцій, лабораторні роботи тощо), автореферати і/чи дисертації, захищених при вчених радах ТНТУ, патенти ТНТУ, газета "Університетські вісті", звіти за науковими темами, що велися у ТНТУ, авторські матеріали технічного спрямування науковців і освітян з поза меж ТНТУ.
Record
| | |
| --- | --- |
| 1 | Birth Date is either when the repository was first registered in ROAR or the earliest record found via the OAI-PMH interface. |
| 2 | Deposit activity measures the number of days in the last year that had "low" (1-9), "medium" (10-99) or "high" (100+) numbers of records deposited. |