Notice:
The statistics currently shown are wrong but the harvesting operations should restart over the summer.
We are doing everything we can to bring the service back to normal and we apologise for the interruption to the service.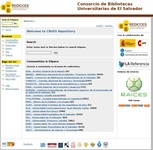 Description
Repositorio colaborativo que incluye Informes técnicos, Artículos de revista, Documentos históricos, Tesis de doctorado, Tesis de maestrias, entre otros. Este repositorio nace con el objetivo de ser el punto de difusión de la producción cientifica y cultural de El Salvador.
Record
ROAR ID:
5331
Home Page:
http://www.redicces.org.sv
Repository Type:
Research Multi-institution Repository
Organisation:
Biblioteca Nacional de El Salvador BINAES, Escuela Especializada en Ingenieria ITCA-FEPADE, Escuela Superior en Economía y Negocios, Universidad Centroamericana José Simeón Cañas, Universidad El Salvador, Universidad Don Bosco, Universidad Dr. José Matias Delgado, Universidad Evangélica de El Salvador, Universidad Francisco Gavidia, Universidad Tecnológica de El Salvador, Consejo Nacional de Ciencia y Tecnología
Software:
DSpace (version other)
Country:
North America > El Salvador
Location:

| Country | City | Latitude | Longitude |
| --- | --- | --- | --- |
| El Salvador | San Salvador | 13.7069 | -89.2018 |
| El Salvador | San Salvador | UNSPECIFIED | UNSPECIFIED |
| El Salvador | San Salvador | UNSPECIFIED | UNSPECIFIED |

Birth Date1:
12 June 2012 21:28:50 UTC
Daily Deposit Activity2:

| Low Rate | Medium Rate | High Rate |
| --- | --- | --- |
| 0 | 0 | 0 |

OAI-PMH Interface:
http://www.redicces.org.sv/oai/request? ?Identify ?ListMetadataFormats
RSS Feed:
http://www.redicces.org.sv/jspui/feed/rss_2.0/site
Other Registries:
Celestial
OpenDOAR

Record Creator:

Hermes Blanco
| | |
| --- | --- |
| 1 | Birth Date is either when the repository was first registered in ROAR or the earliest record found via the OAI-PMH interface. |
| 2 | Deposit activity measures the number of days in the last year that had "low" (1-9), "medium" (10-99) or "high" (100+) numbers of records deposited. |