Notice:
The statistics currently shown are wrong but the harvesting operations should restart over the summer.
We are doing everything we can to bring the service back to normal and we apologise for the interruption to the service.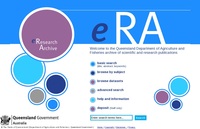 Description
eResearch Archive is a public digital archive of scientific and research output by staff of the Department of Agriculture and Fisheries in Queensland Australia, or its former entities (Department of Agriculture, Fisheries and Forestry, Department of Employment, Economic Development and Innovation, Department of Primary Industries & Fisheries and Department of Agriculture and Stock). Contributions come from a broad cross section of DAF staff, covering areas such as Animal Science, Fisheries, Plant Science, Horticulture and Forestry Science, Food Science, Biosecurity and Invasive Plants and Animals. Where permission has been granted (or subscriptions permit), users are able to link directly to full-text content or download a copy free of charge. Where relevant, datasets link to related scientific and research publications authored by DAF staff within the eResearch Archive. The published datasets are also harvested by the Australian National Data Service and OAIster. Datasets with restricted access will only be viewable by departmental staff, while unrestricted datasets can be downloaded by all users.
Record
| | |
| --- | --- |
| 1 | Birth Date is either when the repository was first registered in ROAR or the earliest record found via the OAI-PMH interface. |
| 2 | Deposit activity measures the number of days in the last year that had "low" (1-9), "medium" (10-99) or "high" (100+) numbers of records deposited. |