Notice:
The statistics currently shown are wrong but the harvesting operations should restart over the summer.
We are doing everything we can to bring the service back to normal and we apologise for the interruption to the service.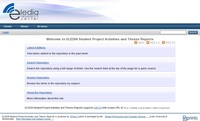 Description
This repository holds publications, project activities, Bachelor Theses and Master Theses proposed by ELEDIA Research Center at the University of Trento. The Electromagnetic Diagnostic Research Center at the Information Engineering and Computer Science Department, University of Trento, addresses several research activities dealing with the analysis and synthesis of radiating systems and Smart Sensors, the definition of innovative communication strategies and pervasive cognitive techniques, the study of the interaction between electromagnetic fields and complex structures (biomedical diagnostics, monitoring of industrial processes, NDT / NDE, electromagnetic compatibility, electromagnetic pollution assessment) and to their applications in the field of telecommunications, environment, energy, and biomedicine.
Record
ROAR ID:
7019
Home Page:
http://eledia.science.unitn.it/publications/
Repository Type:
Research Institutional or Departmental
Organisation:
ELEDIA - Electromagnetic Diagnostic Research Center
Additional Information:
The Electromagnetic Diagnostic Research Center at the Information Engineering and Computer Science Department, University of Trento, addresses several research activities dealing with the analysis and synthesis of radiating systems and Smart Sensors, the definition of innovative communication strategies and pervasive cognitive techniques, the study of the interaction between electromagnetic fields and complex structures (biomedical diagnostics, monitoring of industrial processes, NDT / NDE, electromagnetic compatibility, electromagnetic pollution assessment) and to their applications in the field of telecommunications, environment, energy, and biomedicine.
Software:
EPrints (version 3.3.15 eps)
Country:
Europe > Italy
Location:

Country

City

Latitude

Longitude

Italy

Trento

UNSPECIFIED

UNSPECIFIED

Birth Date1:
19 June 2013 22:04:06 UTC
OAI-PMH Interface:
http://eledia.science.unitn.it/publications/cgi/oai2 ?Identify ?ListMetadataFormats
RSS Feed:
http://eledia.science.unitn.it/publications/cgi/latest_tool?output=Atom
Other Registries:
Celestial

Record Creator:

Org. Research Center ELEDIA
| | |
| --- | --- |
| 1 | Birth Date is either when the repository was first registered in ROAR or the earliest record found via the OAI-PMH interface. |