Notice:
The statistics currently shown are wrong but the harvesting operations should restart over the summer.
We are doing everything we can to bring the service back to normal and we apologise for the interruption to the service.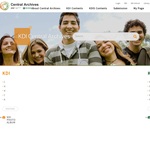 Description
KDI School Archives, established in 2007, is in charge of the institutional memory of the school, including KDI School administrative records and miscellaneous historical collections. Committed to this goal, the archives identify, acquire, and maintain records of enduring value and aims to ensure their continued existence and accessibility. Providing records retention and retrieval services that assist faculty and administrative staff in ongoing operations of the school also falls in the realm of the archives.
Record
ROAR ID:
8673
Home Page:
http://archives.kdischool.ac.kr/
Repository Type:
Research Institutional or Departmental
Additional Information:
KDI School Digital Archives is a institutional repository for materials produced by the members of the KDI School. The main goal of the digital archives is to keep born-digital archives that documents the everyday happenings of the KDI School safe and accessible for as long as needed. It also serves as a repository of digital scholarly output of the KDI School members. Specifically, the digital archives aim to acquire KDI School digital archives and materials, and ensure it is accessible, searchable and safe from alteration.
Software:
DSpace (version other)
Country:
Asia > South Korea
Location:

Country

City

Latitude

Longitude

South Korea

Seoul

37.592

127.047

Birth Date1:
16 July 2014 09:24:38 UTC
OAI-PMH Interface:
http://archives.kdischool.ac.kr/oai/request ?Identify ?ListMetadataFormats
RSS Feed:
http://archives.kdischool.ac.kr/feed/rss_2.0/site
Other Registries:
OpenDOAR
Celestial

Record Creator:

Mr. JaeHeon Roh
| | |
| --- | --- |
| 1 | Birth Date is either when the repository was first registered in ROAR or the earliest record found via the OAI-PMH interface. |