Notice:
The statistics currently shown are wrong but the harvesting operations should restart over the summer.
We are doing everything we can to bring the service back to normal and we apologise for the interruption to the service.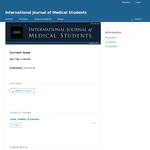 Description
The International Journal of Medical Students (IJMS) is an online peer-reviewed open-access scientific journal (ISSN 2076-6327), created to share the scientific production and experiences of medical students worldwide. Our objective is to be the primary diffusion organ for medical students, using standards that accredit the process of scientific publication.
Record
ROAR ID:
8819
Home Page:
http://www.ijms.info/
Repository Type:
e-Journal/Publication
Organisation:
DOAJ, Index Copernicus
Additional Information:
The IJMS is indexed/listed in: Academic keys, Biblioteca Virtual del Sistema Sanitario Publico de Andalucia (BV-SSPA), Bielefeld Academic Search Engine (BASE), CiteFactor, Dialnet Foundation (Dialnet), Directory of Open Access Journals (DOAJ), Directory of Research Journals Indexing, Elektronische Zeitschriftenbibliothek (EZB), Equator Network, e-Revistas, Geneva Foundation for Medical Education and Research, Google Scholar, Health InterNetwork (HINARI), Index Copernicus (ICV 2012: 5.62), Journal Seek Database, International Impact Factor Services (IIFS), List of Publications that follow the International Committee of Medical Journal Editors (ICMJE), Mexican Index of LatinAmerican Biomedical Journals (IMBIOMED), NewJour, Open Academic Journals Index (OAJI), Online Computer Library Center (OCLC) WorldCat, Pubshub, Research Bible, Rubriq, SHERPA/RoMEO, Scientific Indexing Services (SIS), Scientific Journal Impact Factor (SJIF 2012: 3.034), Srengthening the Reporting of Observational studies in Epidemiology (STROBE Statement), The e-Journal Gateway (J Gate), The Open Access Digital Library, Ulrich's International Periodical Directory/Summon by Serial Solutions.
Software:
Open Journal System (version other)
Country:
North America > United States
Location:

| Country | City | Latitude | Longitude |
| --- | --- | --- | --- |
| United States | Rochester | 43.1656 | 77.6114 |

Birth Date1:
30 August 2014 14:43:31 UTC
OAI-PMH Interface:
http://www.ijms.info/ojs/index.php/index/oai ?Identify ?ListMetadataFormats
RSS Feed:
http://www.ijms.info/ojs/index.php/IJMS/gateway/plugin/WebFeedGatewayPlugin/rss2
Other Registries:
Celestial

Record Creator:

Dr Francisco Javier / FJ Bonilla-Escobar
| | |
| --- | --- |
| 1 | Birth Date is either when the repository was first registered in ROAR or the earliest record found via the OAI-PMH interface. |