Notice:
The statistics currently shown are wrong but the harvesting operations should restart over the summer.
We are doing everything we can to bring the service back to normal and we apologise for the interruption to the service.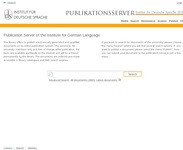 Description
The library offers to publish electronically generated and qualified documents on its online publication system. This service is for university members only and free of charge. After publication, the texts are available worldwide on the Internet and will be archived permanently by the library. The documents are indexed and made accessible in library catalogues and Web search engines. If you want to search for documents of the university, please choose the menu "Search" where you will find several search options. If you want to publish a document, please select the menu "Publish"; here you can submit your document to the publication server in just a few steps. Herzlich willkommen auf den Seiten des Publikationsservers des Instituts für Deutsche Sprache (IDS) in Mannheim. Sie finden hier die wissenschaftlichen Veröffentlichungen des IDS und seiner Mitarbeiterinnen und Mitarbeiter, die als bibliographische Daten und – soweit es die rechtlichen Rahmenbedingungen ermöglichen - mit Volltexten zur Verfügung stehen. Vorrangig handelt es sich um Publikationen aus allen Bereichen der germanistischen Sprachwissenschaft. Die Volltexte sind mit einer zitierfähigen URN (Uniform Ressource Name) weltweit im Internet recherchierbar und werden dauerhaft elektronisch archiviert. Sie sind bibliographisch erschlossen und über Bibliothekskataloge und Suchmaschinen im Internet zugänglich. Wenn Sie auf dem Dokumentenserver nach Publikationen des IDS und seiner Mitarbeiterinnen und Mitarbeiter suchen wollen, wählen Sie bitte die Menüs "Suchen" oder "Stöbern". Sie können Ihre Suche auch über den Link "Erweiterte Suche" verfeinern. Das Modul "Veröffentlichen" steht nur den Mitarbeiterinnen und Mitarbeitern des IDS zur Verfügung. Weitere Informationen hierzu finden Sie unter "Hilfe". Unabhängig vom Institut für Deutsche Sprache besteht die Möglichkeit, sprachwissenschaftliche Literatur über die Dokumentenserver der virtuellen Fachbibliotheken "Lin|gu|is|tik –Portal für Sprachwissenschaft" oder über "Germanistik im Netz" zu veröffentlichen, mit denen das IDS kooperiert. Das Institut bittet die Autorinnen und Autoren sowie Nutzerinnen und Nutzer der im Volltext gebotenen Texte, die bestehenden Rechte zu beachten und genutzte Texte ausreichend zu zitieren. Der Server befindet sich noch im Aufbau und wird kontinuierlich ergänzt.
Record
| | |
| --- | --- |
| 1 | Birth Date is either when the repository was first registered in ROAR or the earliest record found via the OAI-PMH interface. |